The new polar research ship, the RRS Sir David Attenborough, left Liverpool cruise terminal on Tuesday 3 November 2020 to begin technical trials.
This £200m commitment represents the UK Government's largest investment in polar science since the 1980s. The polar ship will keep Britain at the forefront of world-leading research in Antarctica and the Arctic. The research vessel will operate the British Antarctic Survey. 
RRS Sir David Attenborough is designed to support science in extreme environments. And she is capable of operating year round.
RRS Sir David Attenborough is the first British polar research vessel to feature a scientific moon pool. This allows flexible and reliable deployment and retrieval of scientific equipment such as remotely operated vehicles and autonomous underwater vehicles.
The RRS Sir David Attenborough being guided into the wet basin at Cammell Laird Shipyard in Birkenhead
A moon pool is a vertical shaft (~4 x 4 m) running through the vessel, open to both the air and sea. Using the moon pool, scientific equipment can be deployed and recovered through the center, and most stable part, of the hull. This is easier and safer than deploying equipment over the side or stern, particularly in the polar oceans' rough seas.
Initially the ship was named as Boaty McBoatface. After a public voting she was officially named after the veteran BBC naturalist David Attenborough in 2019.
RRS Sir David Attenborough's construction was done by the shipyard Cammell Laird shipyard in Birkenhead, London.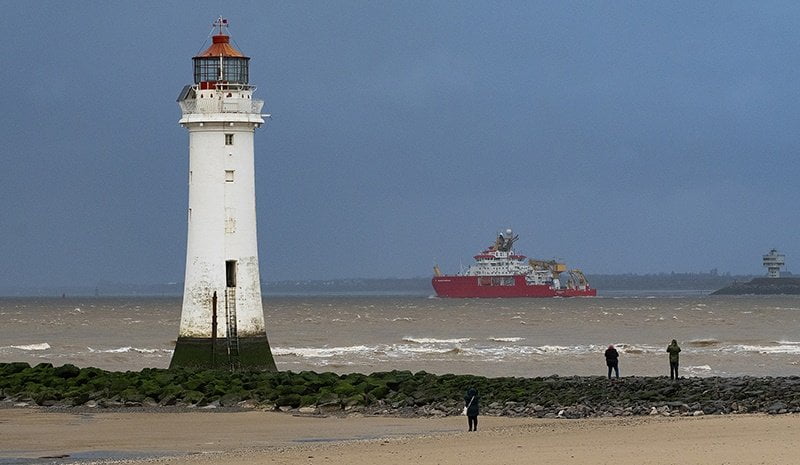 Technical features of the Polar Research Ship
Length: 129 metres; beam: 24m; Gross Tonnage: 15,000
Scientific cargo volume of approximately 900m³
Endurance – up to 60 days
Range 19,000 nautical miles at 13 knots (24 km/h) cruising speed; more than enough for a return trip from England to Rothera Research Station, or to circle the entire Antarctic continent twice!
Ice breaking capability – up to 1m thick at 3 knots (5.6 km/h)
Bow and stern thrusters for excellent dynamic positioning in challenging conditions
Launch and recovery of aerial and ocean robotic systems
Crew approx. 30
Accommodation for up to 60 scientists and support staff